Exhibitor
Sensenova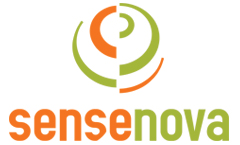 Sensenova is a Brazilian Company fully developed and run for product market research with sensory focus.
Sensenova exhibition at Pangborn 2017 in the United States of America territory is a new challenging step after Sensenova was an exhibitor at Pangborn 2015 in Sweden and at Eurosense 2016 in France.
Sensenova was recently accepted as member of the ESN-NETWORK, the European Sensory Network. The first Brazilian and the first Latin American company to become an ESN member.
Sensenova is governed, managed and operated, following the highest standards of corporate governance in; transparency, fairness, accountability and corporate responsibility.
Sensenova is an Ethical company; real practical evidence how to operate ethically regardless of the business environment where an enterprise is established.
Sensenova services portfolio ranges from trained panels, qualitative, quantitative, home use test up to customized special services to address key customer needs.
Sensenova customer base, international and national, was defined as "significant and charming". Sensenova prioritizes customer intimacy. Sensenova customers include; giant multinational companies in industries such as food and beverage, home and personal care, pharma. Of course many of the main local companies in the consumer goods industries.
Sensenova is ISO 9001 certified. Sensenova customer satisfaction indexes are remarkably high.
Sensenova headquarter is located in São Paulo, the largest city and largest consumer goods market within Latin America.
Sensenova has sensory expertise, specialized staff, facilities, layout, processes and tools, in order to provide customers with relevant information on how human senses perceive and decide about products through research processes carried out with technical rigor, neutrality and independence.
Sensenova is creative and flexible to achieve customer's goals and expectations without concessions when it comes to sensory science rigor.
Sensenova aims to effectively contribute to customer's decision making processes and its business impacts.
At Pangborn 2017 in United States of America Sensenova has strategic objectives; enhancing its international exposure and developing partnerships with companies willing to initiate or improve its business by exploring the Brazilian consumer market along with a reliable, trustful partner such as Sensenova.
Web site: www.sensenova.com.br
E-mail: sensenova@sensenova.com.br
Telephone: +55 11 4689 8954
« Go Back