Sponsor/Exhibitor
SAM Sensory and Marketing International GmbH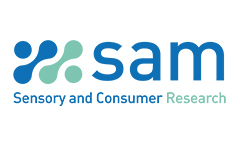 SAM supports company decision makers in achieving new levels of product performance and sharpening their competitive edge through the enhancement of their product positioning strategy.

Our work is based on a profound understanding of the consumer decision-making process and preference in conjunction with renowned Universities in the field, incorporating the latest findings in sensory science and consumer research.
SAM brings to bear a unique expertise in the application of sensory and consumer research, having accumulated an outstanding level of experience reinforced by cross category know-how.
SAM detects and exploits hidden growth opportunities and supports cost/quality optimization
SAM study designs are customized to the specific requirements of our clients and adapted to the objective, delivering actionable recommendations. The sustainable success of products over years makes up the core of all our studies.
SAM maintains six high-tech, professionally equipped locations in Europe and provides a Unique Global Network in Sensory Marketing in order to deliver high quality studies at a cost efficient level. We conduct sensory and consumer research locally and on a global scale - spanning more than 40 countries around the world.
SAM is a privately owned and fully independent company and has been a trusted partner of the industry for decades.
SAM provides you with …

the most direct path to successful products
the professional capability of realizing complex international fielding
the solution to understand your prospects for growth
the fundamental approach to optimize your products
the key to discovering opportunities for strategic positioning
the response to your cost/quality optimization
SAM Sensory and Marketing International, founded in 1987, is a leading international sensory and consumer research specialist providing solutions for product performance!
SAM is a full-service provider offering a complete portfolio of descriptive, qualitative and quantitative product- and packaging-related research.
« Go Back