Exhibitor
Qi Statistics Ltd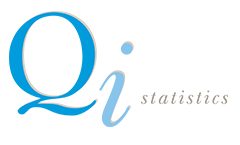 Qi Statistics Ltd is the leading UK provider of statistical consultancy and training in product manufacturing and consumer research, supporting companies worldwide in making data-driven decisions.
Qi is run by Anne Hasted, recognised worldwide as an expert on applying statistical methods in sensory and consumer research, with over 30 years experience. With Anne is a group of experienced statisticians who have worked with multinational companies across a wide range of industries and applications.
Our training is designed to be "user friendly", with emphasis on the application of statistical techniques rather than the underlying mathematics.
Qi markets a variety of software for sensory and consumer research; in house products SenPAQ for analysis of sensory panel data, TURF Calculator and Design Express for generating presentation orders for consumer test designs. We also develop bespoke software for preference mapping/product optimisation and automated reporting. We jointly develop and market EyeOpenR® in partnership with Logic8.
« Go Back