Exhibitor
Eurofins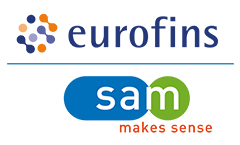 Eurofins Marketing Research is a market research institute with more than 25 years of experience in the field of marketing and sensory studies.
Our vocation is to accompany our customers in their products' development and optimization strategies. We mainly take actions in the following fields of expertise: product insight, product's performance evaluation, consistency and match between the product and its marketing mix.
Our dual culture – market and sensory research, allows us to propose relevant protocols deep inside product development's interrogations:
Qualitative: strategic qual, ethnographic blog, concept test, etc.
Quantitative: screening, packaging test, U&A, etc.
Sensory Evaluation: cost saving, product optimization, HUT, etc.
Sensory Analysis: profiles, etc.
What makes Eurofins Sensory & Consumer Research unique is:  
An international presence with 6 competence centers in Europe and China, completed with the 1st bio-analysis network of laboratories
A customer-centric approach stamped with reactivity, relevance, led by a Project Manager -unique spokesperson dedicated to the design and management of studies.
For thorough analysis: SensoryResearch@eurofins.com
« Go Back